HOME > Interpretation Services

There is a growing demand for highly skilled and reliable interpreters as corporations and organizations adapt to globalization. As pioneers in the interpretation industry, ISS provides high-quality interpretation services based on the business know-how and the vast network of carefully vetted interpreters accumulated over the years. Sales representatives who provide full-time service for clients effectively communicate with interpretation coordinators, allowing for the arrangement of the most suitable interpreter for each task. We are capable for handling a wide variety of demands. Please contact us with whatever needs you may have.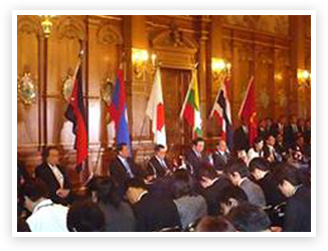 Core Strengths of ISS Interpretation Services
1.Pioneers in interpretation
2.Training of interpreters and the stable securing of registered interpreters
3.High-quality interpretation services
4.Provision of comprehensive professional language services
5.Abundant experience in a wide range of industries
6.Support for a wide variety of languages
Please do not hesitate to contact us.
Contact information for inquiries regarding
interpretation services:

+81-3-6369-9993
Email: ask_conv@issjp.com